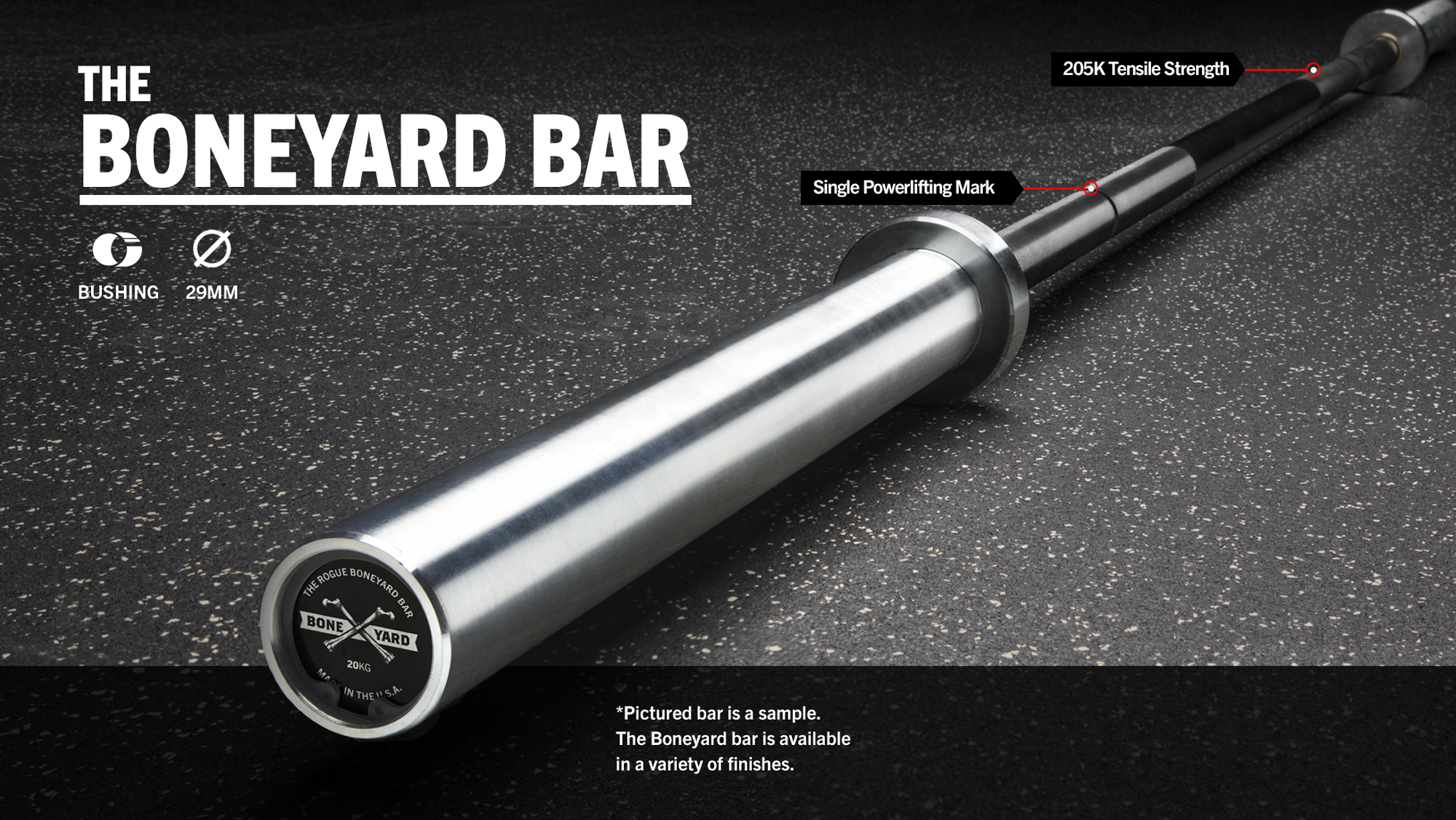 The Rogue KG Junior Bar is a great way to introduce young lifters to Olympic lifting. This barbell, distributed through Rogue Fitness, features a lightweight yet durable construction and a 20 kg weight capacity. The Junior Bar has a 2-inch diameter shaft with a black zinc coating, ensuring that it is not only easy to grip, but also able to withstand years of intense workouts. The bar's shaft is designed to better fit smaller hands, making it comfortable for younger athletes to use. Additionally, the Junior Bar is equipped with precision-machined bronze bushings to ensure smooth rotation during lifts. For safety, the bar also features dual knurling marks for Olympic training, so you can set up the bar for accurate, powerful moves. Finally, the Junior Bar has a bright green finish for a stylish, eye-catching look. It's perfect for introducing new lifters to Olympic barbells and is an ideal training tool for young athletes.
Boneyard Rogue 10KG Junior Bar - Black Zinc Shaft / Bright Zinc Sleeves

Out of Stock

Boneyard Rogue 10KG Junior Bar - Raw Shaft / Bright Zinc Sleeves

Out of Stock
---
Pros & Cons
Pros
• Kilogram increment markings
• Excellent flexibility and balance
• Knurling grip for maximum control
• High-tensile strength steel
• Ideal for lightweight and youth athletes
Cons
• More expensive than other bars
• Can be too light for some heavier athletes
• Unsuitable for power movements such as squats and deadlifts
---
Who Should Buy
Why You Should Buy:
- Quality construction - made with precision craftsmanship from one-piece durable steel
- Accurate IWF-certified weight - reliable strength training performance
- Value - great value for a junior-sized bar
- Sophisticated look - attractive design with bright zinc and bright zinc sleeves
Why You Should Not Buy:
- It's a junior-sized bar - not suitable for larger athletes
- Only 15 kg - may not be heavy enough for some
- Only available in bright zinc - not ideal for gyms with a lot of chalk.
---
Features/Specs
-Diameter: 28.5mm
-Grip: 28.5mm
-Grip length: 42"
-Shaft length: 51.5"
-Loadable sleeve length: 17.25"
-Weight: 10KG
-Construction: Mild steel with bare finish
---
Comparison
| | Rogue Boneyard Rogue 10KG Junior Bar | Product 1 | Product 2 | Product 3 |
| --- | --- | --- | --- | --- |
| Weight | 10 kg | 12 kg | 8 kg | 14 kg |
| Knurling | Medium depth Single Knurl | Aggressive | Aggressive | Medium |
| Finish | Bare Steel | Black Zinc | Bright Zinc | Black Zinc |
| Whip | Minimal | Moderate | Minimal | Moderate |