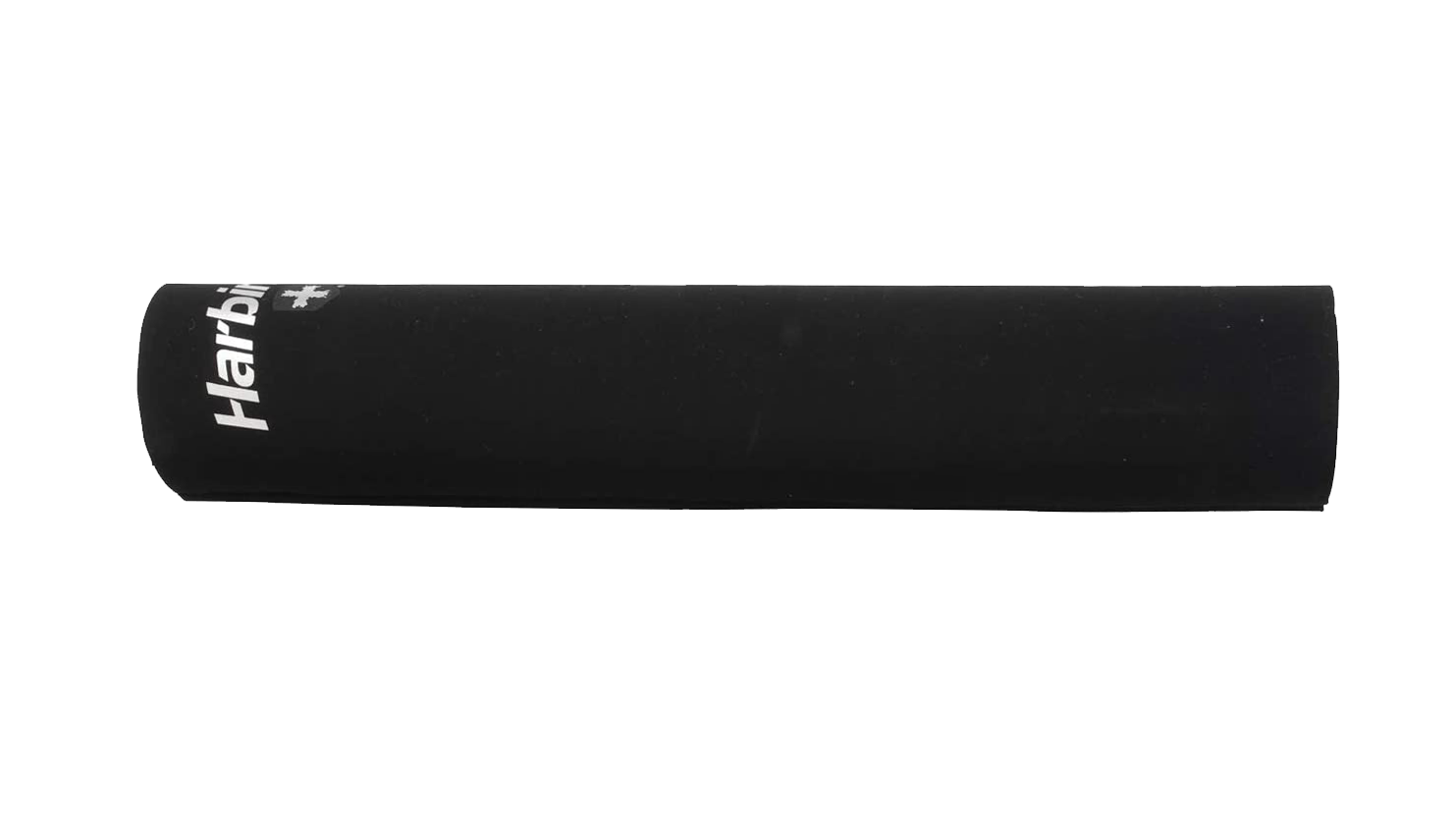 The Harbinger Neotek Olympic Bar Pad from Rogue Fitness is designed to provide comfortable and secure weightlifting holds while using bars of up to 2.5-inch diameter. This padded bar pad is made of heavy-duty neoprene, so it can stand up to heavy lifts without compressing, making it perfect for Olympic weightlifting movements. The pad features a secure wraparound closure system designed to fit bars of various sizes while still providing stable grip and extra support during your lifts. The pad also comes with a lifetime warranty, so you know it's built to last. Whether you're a beginner or advanced lifter, this bar pad is sure to provide great cushioning for your hands and wrists, helping to ease the impact of heavy weightlifting. The pad is ideal for bumpers, weightlifting plates, and other bars. Plus, it comes in a variety of colors to help you find the perfect match for your home gym.
---
Pros & Cons
Pros:
• Made from durable poly fabric, water and tear-resistant
• High-density foam core provides cushioning and improved grip
• Fit most standard Olympic bars in your gym
• Versatile and can be used for Olympic weight lifting, squats, and other weightlifting exercises
• Easy to use, adjustable straps make fitting quick and secure
Cons:
• Not compatible with some specialty barbells
• Must be re-adjusted for each user and activity
• Not designed for deadlift
• Poor ventilation and can get sweaty after long use
---
Who Should Buy
This Harbinger Neotek Olympic Bar Pad from Rogue Fitness is an excellent product for anyone who wants to increase their comfort level and safety while performing heavy Olympic barbell lifts, such as deadlifts, squats, bent-over rows, and presses. It is recommended for athletes who are new to these exercises and for seasoned pros who may be prone to hip, back, and shoulder injuries.
This product should not be purchased by individuals who are not engaging in heavy Olympic barbell lifts, as it would not be necessary for them.
---
Features/Specs
- Fits Olympic size 6' and 7' bars
- Thick, heavy-duty foam cushioning
- Cushions shoulders, neck and spine
- Lined with reinforced vinyl for protection and durability
- Includes hook-and-loop fasteners for secure attachment to bar
---
Comparison
Material
Dimensions (L x H x W)
Number of Secure Fasteners
Material
Dimensions (L x H x W)
Number of Secure Fasteners
High-density Foam
11.5"x2.5"x3"
4
Neoprene
11.5"x3.25"x4.25"
4
Foam and Fabric
10.5"x3"x4.25
4
High-density Foam
10.5"x2.5"x3.5"
2