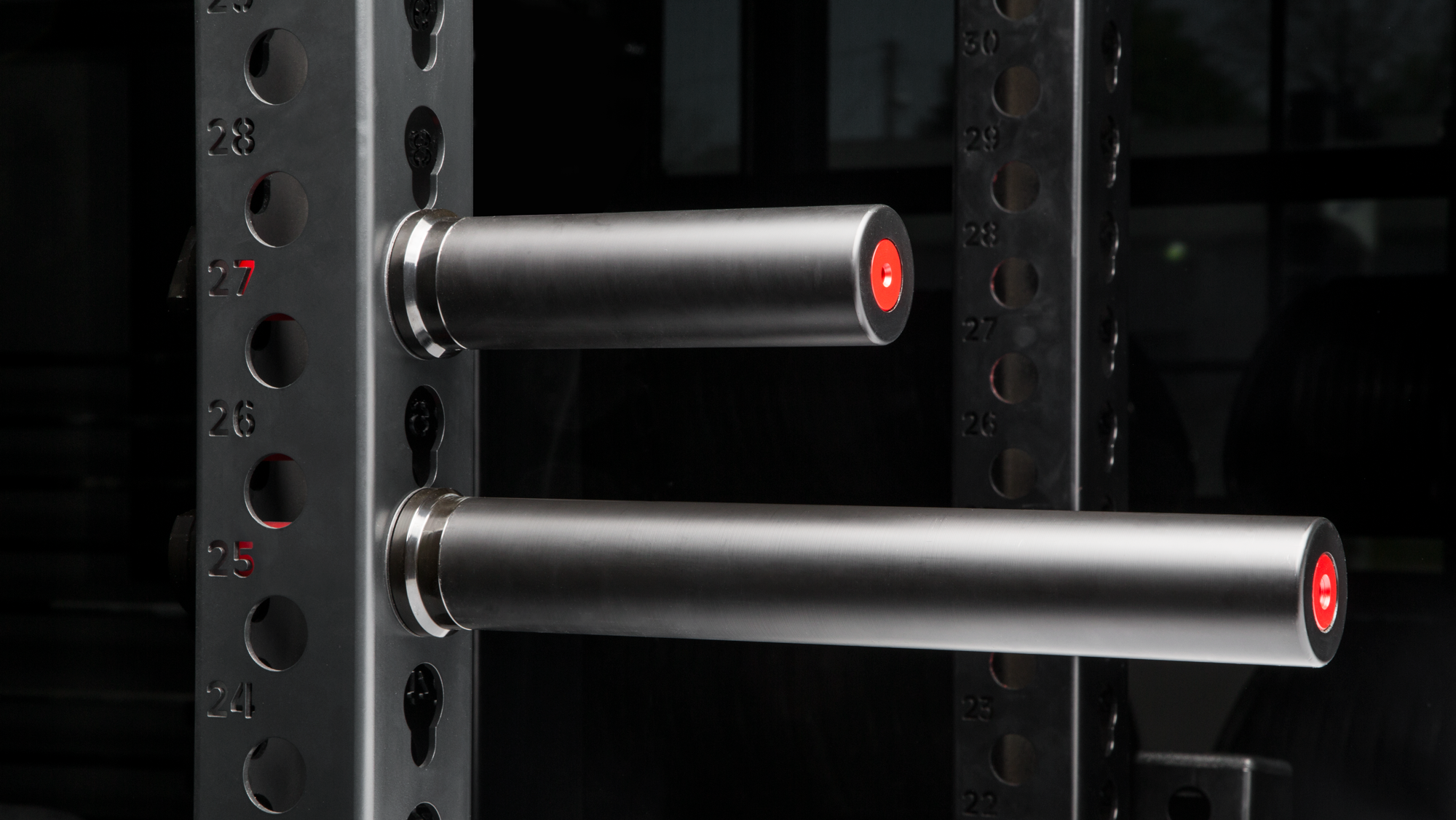 The Rogue Monster Plate Storage Pin (Black/Red) is an adjustable-height barbell storage solution from Rogue Fitness. The product offers ample storage space for all types of barbells, and its construction ensures that it can handle up to 1300lbs of weight. The vertical plate-storage pin is designed with an innovative belt-and-pin locking system to keep the plates locked in place, while its vertical design makes it easy to adjust the height of the pin, allowing you to customize the product to your preference. The product is constructed with 11-gauge steel and finished with a durable powder-coat finish, ensuring strength and longevity. The pin is also designed to remain securely in place on the floor, as its steel bases incorporate rubber feet for extra grip. The product's dimensions are 29.5"W x 43.5"H and requires minor assembly. The Rogue Monster Plate Storage Pin provides secure storage for barbells and other equipment and is ideal for setups where space is a top priority.
Rogue Monster Plate Storage Pin - Black/Red - 6" Pair

24% off • Out of Stock

Rogue Monster Plate Storage Pin - Black/Red - 12" Pair

26% off • Out of Stock
---
Pros & Cons
Pros:
• Heavy-duty Construction for added durability.
• Knurled grip allows for secure and easy handling.
• Made from high-grade steel to give you a consistent and reliable performance.
• Sleek pin can hold up to 900lbs.
• Compact and easy to transport.
• Ideal for CrossFit gyms or home gyms.
Cons:
• Expensive compared to other storage pins.
• Limited color options available.
• Not suitable for outdoor use.
---
Who Should Buy
Should Buy:
• High quality construction
• Durable and rugged design
• Variety of color options
• Great for home gyms
• Works with multiple plates
Should Not Buy:
• Not compatible with bumpers or Olympic-style plates
• Costlier option compared to other plate holders
---
Features/Specs
• 5.5'' H x 5.5'' W x 5.5'' L
• Weighs 13 lbs
• Constructed with industrial grade steel
• Textured black color
• Red end caps
• 1-inch hole for Olympic bar connection (compatible with all Rogue Olympics bars)
• Finish with a black armor powder-coat finish
• Mounts securely to weightlifting platforms or walls
---
Comparison
| Product | Weight Capacity | Price |
| --- | --- | --- |
| Rogue Monster Plate Storage Pin Pair - Black/Red | 2,500 lb | $185 |
| Monster Plate Storage Pin Pair - Black/Orange | 2,500 lb | $169 |
| Rogue Plate Storage Pin Pair - Red | 2,500 lb | $99 |
| Monster Plate Storage Pin Pair - Red/Green | 2,500 lb | $189 |
| Pro Plate Storage Pin Pair - Black/Yellow | 2,500 lb | $129 |
---
Price History