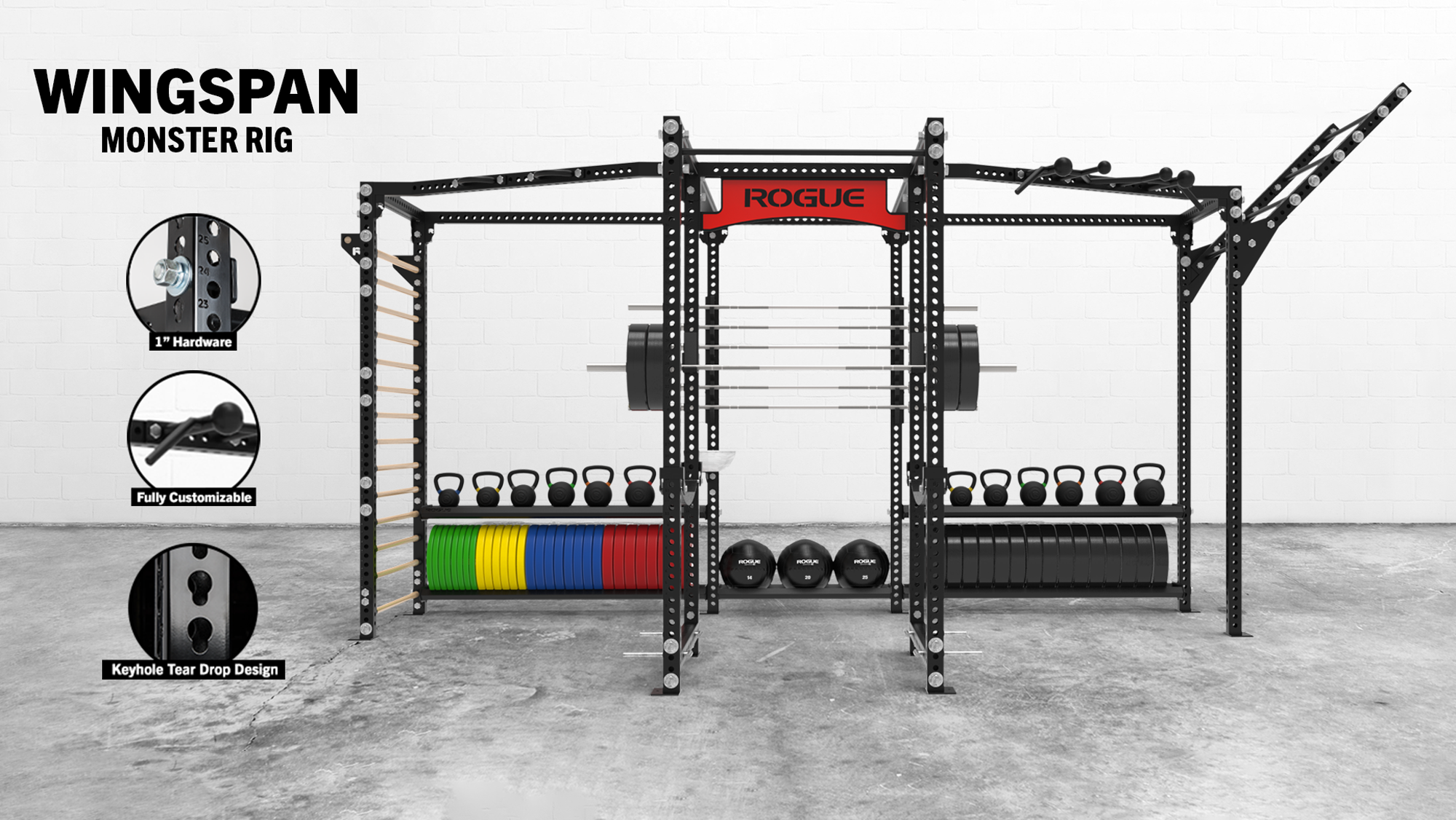 The Rogue Monster Wingspan Rig is a versatile and robust workout system that accommodates a wide range of strength training activities. The rig features two 3x3" 11-gauge Monster Lite uprights, plus several crossmembers, including two 10' Single Skin Crossmembers and two 6' Double Skin Crossmembers. The Monster Lite uprights feature 1" hole spacing on the Westside hole pattern and 2" hole spacing throughout, helping to accommodate a variety of barbell lifts, gymnastic activities, core training exercises, and more. The included extra-long crossmembers span the full length of the uprights and feature two adjustable single-pull-up bars. This system also includes a pull-up bar to the rear of the uprights and two lower shorty crossmembers that can be used for weight storage or additional accessory attachments. The Monster Wingspan Rig is constructed entirely from Rogue's own Monster Lite series of 11-gauge steel, offering durability and strength not found in many sports rigs. The uprights come finished in black powdercoat and feature laser-etched numbering for easy j-cup and pull-up bar positioning. The entire rig comes pre-drilled for compatible Rogue accessories, including the Monster Lite Multi-Grip Pull-Up Bar, the Rogue Landmine Attachment, and the Monster Lite Spotter Arms. A great option for garage gyms, HIIT training centers, and weight rooms at any level, the Monster Wingspan Rig represents an ideal way to start or expand any strength-training space.
Rogue Monster Wingspan Rig - Base Unit

In Stock

43" Monster Single Post Shelf - 43" Monster Single Post Shelf

In Stock

43" Monster Single Post Kettlebell Shelf - 43" Kettlebell Shelf

In Stock

70" Monster Single Post Shelf

In Stock

70" Monster Single Post Kettlebell Shelf

In Stock

Rogue Monster Keyhole Gun Rack™

In Stock

Rogue Monster Crown Pull-up Bar

In Stock

Rogue Monster Flying Pull-up Bar

In Stock

Monster Rope Attachment Anchor

In Stock

Rogue Monster Mounted Chalk Bowl

In Stock

Rogue Monster Stall Bars

In Stock
---
Pros & Cons
Pros:
• Adjustable width for a customized fit
• Variety of configurations allows for a variety of exercises
• Includes bubble levels for ease of setup
• Low profile for fit in tight spaces
- Heavy gauge steel Construction for durability
• cons:
• Expensive
• Expanding and adjusting can be complex
• Not ideal for individuals without large wall space
• Not suitable for limited mobility users
• No cable attachments included
---
Who Should Buy
Should Buy:
• Large enough to fit a whole gym in a small space
• Accommodates a range of different workouts
• Durable and heavy duty construction for intense workouts
• Customizable layout potential with attachment options
Should Not Buy:
• Price is too expensive for some
• Limited to a fixed frame design
• Not ideal for those with limited space
• Limited options compared to other rigs on the market
---
Features/Specs
• Length: 7'7"
• Width: 25"
• Weight: 36 lbs
• Beam: 9.25"
• Sail Area: 345 sq. ft.
• Mast Length: 90 cm
• Boom Length: 85 cm
• Board Design: Hybrid Surf/Race Outline
• Fin Configuration: Quad Fin Set Up
• Fin System: US Box
• Construction: Full X-Ply Deck and Bottom • Deck: X-Ply & Kevlar Reinforced
• Hull: X-Ply & Kevlar Reinforced
• 6-Layer Carbon reinforcements on high load areas
---
Comparison
| Product Name | Wingspan | Weight | Flight Time | Price |
| --- | --- | --- | --- | --- |
| Rogue Rogue Monster Wingspan Rig | 78 inches | 3.7 lbs | 15 min | $499.95 |
| Exceed RC Mirage 2000 | 78 inches | 4.2 lbs | 10 min | $399.99 |
| XK X250 | 78 inches | 4.7 lbs | 7-8 min | $289.98 |
| Hobbypower X525 V3 | 75 inches | 3.5 lbs | 20 min | $499.99 |
| FMS A6M Zero | 74.8 inches | 2.9 lbs | 10 min | $174.98 |