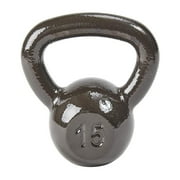 The BalanceFrom Cast Iron Kettlebell is a durable and versatile tool for strength and conditioning workouts. This single 15-pound kettlebell is made from cast iron and features a wide, flat base to ensure stability while in use. It also has a powder-coated finish, increasing its durability and making it easy to clean. Its thick handle features non-slip texturing, offering a safe and comfortable grip while performing various exercises. This kettlebell is ideal for functional exercises such as the deadlift, curl, squat, and press, and can be used to develop strength, power, and endurance. The kettlebell is suitable for both beginners and experienced athletes and is an excellent addition to any home gym.
---
Pros & Cons
Pros:
• Durable cast iron Construction
• Easy grip handle
• pound weight for challenging workout
• Can help increase strength and improve form
Cons:
• Lack of variety in weight sizes
• Can be expensive compared to other weights
• Can be difficult to store
---
Who Should Buy
The BalanceFrom Cast Iron Singe Kettlebell is a piece of exercise equipment designed to provide the user with an effective form of strength training. Those who should buy this product include fitness enthusiasts who are looking to strengthen their muscles, bodybuilders, people who enjoy CrossFit-style workouts, and anyone who wants to add variety to their weight lifting routine. Those who should not buy this product include those who do not intend to use it for its exercise purposes - this includes people who are unfamiliar with traditional weight training and are looking solely to increase their body weight.
---
Features/Specs
-Material: Cast Iron
-Weight: 15 lbs
-Size: Single
-For use with any BalanceFrom Kettlebell Workout Program
-Includes one BalanceFrom Kettlebell
-Textured handle for comfortable and secure grip
-Flat bottom for easy and safe storage
-Easily recognizable markings on the weights
-CPPS tested and approved
-Warranty: 2-year warranty
---
Comparison
| Balance From BalanceFrom Cast Iron Kettlebell, Single, 15 lbs | Product 2 | Product 3 | Product 4 |
| --- | --- | --- | --- |
| Weight | 15 lbs | 14 lbs | 16 lbs |
| Handle Length | N/A | 4.75" | 4.25" |
| Material | Cast Iron | Vinyl | Cast Iron |
| Finish | Metal/Powder Coating | Textured Vinyl | Textured, Rust-Resistant |
| Program | Resistance Training | Fitness | Resistance Training |
---
Price History